For the last 3 years or maybe even 4, I have been completely reliant on MAC Studio Fix Fluid all year round, leaving myself with a very full and reasonably heavy coverage even in the summer months. This year I decided to go for a bit of a change, after being really encouraged by a fair few reviews of Bourjois' latest foundation, Healthy Mix, a much lighter, more moisturising and breathable formula.
I should warn you, this photo may induce nightmares...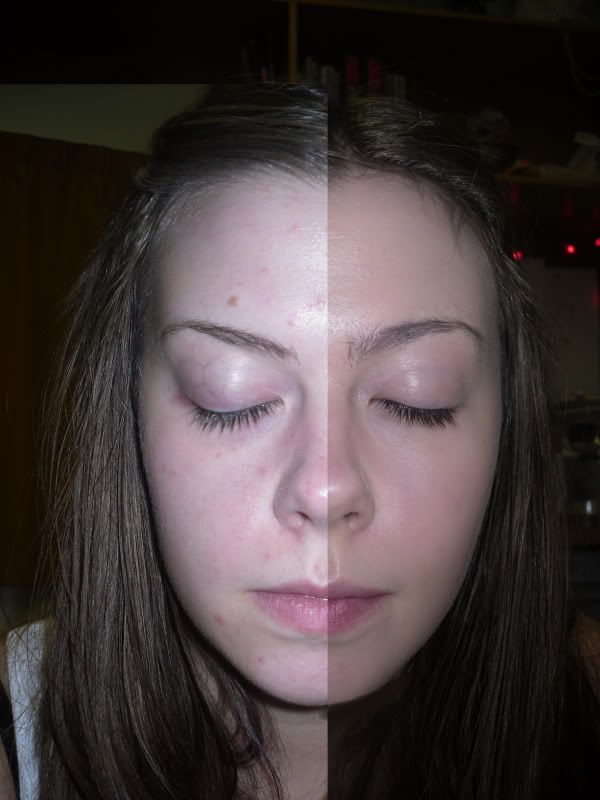 Bourjois Healthy Mix Foundation in 52 Vanilla, applied with MAC 189
MAC Pro Longwear Concealer in NW20, applied with MAC 224
First of all let me apologise for a) my absolutely grim skin in the 'before' half of this! I took it just after exams when I was pretty run down, hence the grossness, and b) for my terrible eyebrows! I'm waiting to get them done when I get back home, so trying to not shape them much, however tempting it is to go on a plucking spree!
The foundation itself looks like this: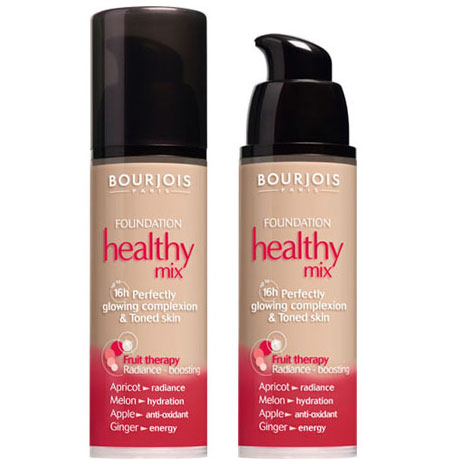 It's won numerous awards, including Product of the Year, and 10/10 from the Daily Mail, and claims to boost your facial radiance by 70%, a pretty big promise. It contains loads of fruity ingredients like apricot (brightening), melon (hydrating), apple (anti-oxidants) and ginger (toning) which sounds like a recipe good enough to eat!
The final amazing claim that I'd heard on the grapevine was that it was a complete duplicate of Chanel Vita Lumiere Aqua, and I have to say I totally agree. I've had three or four samples of the Chanel, after I' d been umming and arr-ing over splurging out on it for ages, but I'm so relieved I waited to discover this option! It's a complete bargain at under £10!
The lighting in my photo is slightly misleading in the colour change that the foundation gives me, as to make me look that tanned when you can see how pale I am originally, would be pretty amazing! That does show though how flatteringly this foundation photographs. I think I'm right in saying it has no (or very little) SPF in it, which is the part of foundation that often photographs with an extremely unflattering finish.
It's the perfect foundation for summer; light but still provides coverage, allowing you to go ever so slightly darker in colour to give a slight tan to your face. It glides on with both fingers and brushes, and it's extremely blendable when concealer is applied over the top for a final touchup. The finish it gives is beautiful, flawless and ever so slightly dewy, giving a very natural look.
I totally reccommend!
PS. I'd really appreciate it if you could '
Like' this
on Facebook for me please :)